Industrial biotech company presents update and additional growth plan at leading industry conference
Milton, Massachusetts, USA (Nov. 15, 2021) – Kalion, Inc., a growing industrial biotech company providing low-cost access to high-purity and environmentally friendly glucaric solutions, today announced it is one step closer to full commercialization of its glucaric acid product with recently completed custom manufacturing at Evonik in Europe.
Darcy Prather, Kalion founder and CEO, presented an update on the successful custom manufacturing campaign and the company's growth and commercialization activities at the Alternative Fuels & Chemicals Coalition conference in Washington, DC, on Nov. 15, 2021. He also provided an overview of how biotechnology offers access to a new world of chemicals with unique advantages over drop-in products not easily accessed from petroleum.
Meeting growing demand for high-purity products
Kalion uses synthetic biology to produce highly effective, low-cost and environmentally friendly glucaric acid and its derivatives. The completion of the custom manufacturing campaign will allow the company to meet existing, multiple customer commitments and demand through summer 2022 and have limited quantities available for additional customers interested in evaluating high-purity glucaric products.
"Kalion can now produce commercial quantities of glucaric acid with the quality and cost necessary to allow companies across a wide range of industry to introduce higher performing, renewable solutions to critical issues across their business," Prather said. "Having worked closely with two leading water treatment companies to demonstrate the effectiveness of our first solution, KSPG40, the Kalion team will now deliver the product at scale to the water treatment sector that has been seeking a cost-effective replacement for phosphates."
Glucaric acid and its related compounds enhance sustainability as well as improve the performance of products and applications ranging from water treatment, polymers and textiles, coatings, detergents, and pharmaceuticals.
To address specific customer needs, Evonik has established a broad portfolio of advanced technologies which can be combined to support multi-step API synthesis. These technologies include continuous processing, fermentation, highly pure PEGs and
mPEGs, transition metal catalysis, biocatalysis, organometallic/cryogenic chemistry, and Chemistry in Water. For many specialized therapy areas, Evonik serves as a fully integrated CMO with capabilities to manufacture customized APIs, select and supply functional excipients, develop parenteral or oral formulations, and manufacture finished drug products. In addition to this integrated portfolio of services, many customers are also attracted by Evonik's reliability and commitment to sustainability.
Meeting customer needs in key markets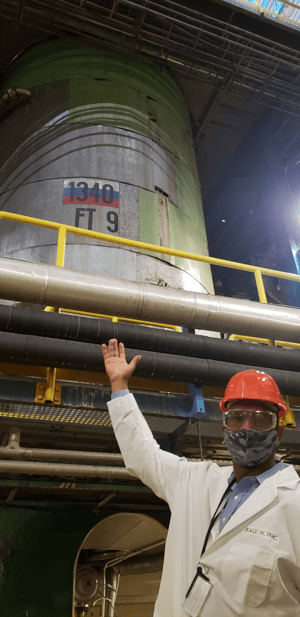 Water Treatment: Finding an effective, safe, economic replacement for phosphates is a critical need for the billion-dollar water treatment business. Phosphates create environmental hazards around the world that have led to phosphate restrictions. Beyond the environmental hazards, phosphate require additional expensive chemicals to maintain appropriate performance, especially in energy-intensive, industrial sectors such as food processing and refineries.
Kalion's KSPG40 glucaric acid is a powerful corrosion inhibitor that presents several advantages over phosphates in water treatment:
KSPG40 greatly reduces white rust issues common in traditional HVAC cooling water treatment and is easier to manage as the operating pH range for effective treatment more than doubles.
In hard water and high temperature scenarios common at oil refineries, glucaric acid does not cause the precipitate fouling with calcium that plagues traditional phosphate-based solutions for heat exchangers and cooling systems, decreasing the energy and treatment requirements, and increasing economic advantage for customers.
In addition, KSPG40 is not subject to effluent restrictions now common to phosphate-based solutions, and reduces greenhouse gas emissions by roughly 50% when compared with those alternatives.
Other Applications: Kalion is now in position to offer high-performance solutions to additional innovations previously not possible.
Kalion will serve the pharmaceutical market with the highest purity calcium glucarate in the market. Using Kalion's pharma solution will reduce the Residue On Ignition (ROI), a critical specification for pharmaceutical excipients, by up to 50% versus alternative sources of supply.
In textiles, glucaric acid has been shown to demonstrate from 50% to nearly an order of magnitude higher performance in modulus and tensile strength across a range of fibers, including polyvinyl alcohol, polyacrylic nitrile, recycled cotton and viscose (rayon) fibers.
Kalion is supporting further development of these advantages in collaborations with fiber producers.
Kalion, Inc. is a Massachusetts-based bioengineering company bringing innovative cost-effective, bio-based solutions to challenging environmental problems. Providing low-cost, high-purity glucaric acid, Kalion has introduced solutions for challenges in industries ranging from water treatment to textiles that improve both the economics and environmental profile of a variety of products. Kalion received the U.S. EPA's Green Chemistry Challenge Award in 2019.
Evonik is one of the world leaders in specialty chemicals. The company is active in more than 100 countries around the world and generated sales of €12.2 billion and an operating profit (adjusted EBITDA) of €1.91 billion in 2020. Evonik goes far beyond chemistry to create innovative, profitable and sustainable solutions for customers. About 33,000 employees work together for a common purpose: We want to improve life today and tomorrow.
###